December 15, 2021
Guideline for Engineers Conducting Performance Audits and Reserve Fund Studies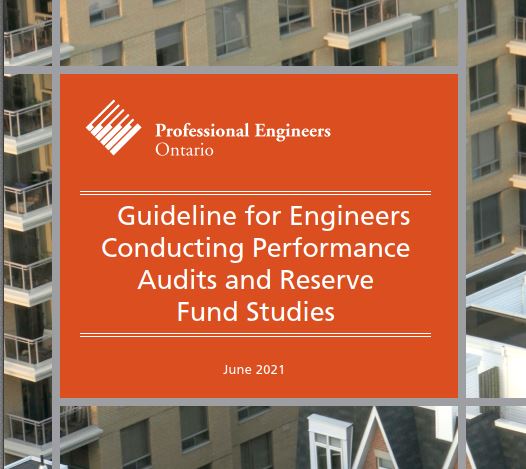 Professional Engineers Ontario has published a guideline for engineers who complete Reserve Fund Studies and Performance Audits. This guideline is written by engineers, for engineers, but is also a good read for managers and boards, as it goes into some detail about the scope of work, best practices and some enhanced practices and optional services that might be considered.
The guideline also identifies high-risk buildings where a reserve fund study will require involvement of a professional engineer. This includes:
Buildings four or more storeys in height;
Buildings with suspended structural slabs that support parking, driveways, or landscaping;
Buildings with balconies, other than wood balconies that are fully exposed;
Post-tensioned structures; and
Other high-risk structures as discussed in the "Report of the Building Safety Technical Advisory Panel (BSTAP)". These are uncommon in condominiums, but may exist in some cases.
Link to Guideline: Guideline for Engineers Conducting Performance Audits and Reserve Fund Studies